Stand Together 2020
LEARN GROW CONNECT INSPIRE - Welcome to the 14th annual Stand Together Conference!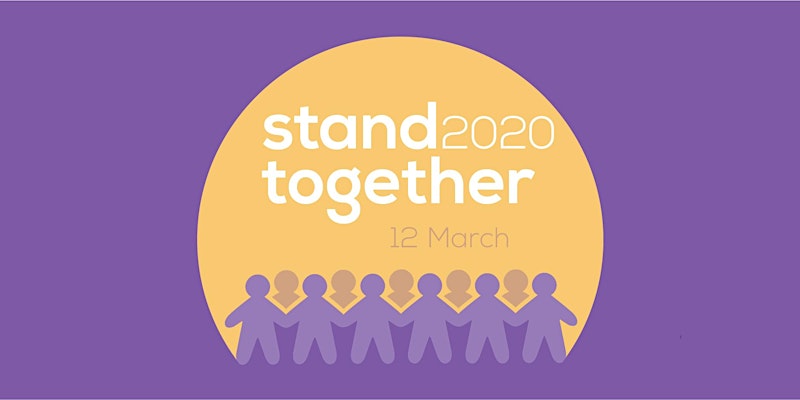 Welcome to the 14th annual Stand Together Conference!
Click here to register on the eventbrite page Spaces are limited.
Event details:
K'aya'chtn (Welcome)
AGENDA
8:00am Registration and Continental Breakfast
8:45am Opening Protocol: Ka-a-my: K'omoks/Anishnaabe, Francine Burning: Mohawk Nation, Leilani Kraushaar: Squamish Nation
Introduction to the morning (Kristine Kredba)
9:00am Coast Salish Performance
9:30am Emily Henry The Story of Resiliency: The Journey Of Reconciliation
Morning Break and Basket Draws
12:00pm Lunch and Basket Draws
12:50pm Introduction to the Afternoon (Kristine Kredba)
1:00pm Sarah Kothlow - AgedOut.com
1:30pm Natasha Files - An Introduction to Emotion Focused Therapy
Afternoon Break and Basket Draws
4:00pm Feedback, Basket Draws and Closing Remarks
4:25pm Closing Song
Huy chexw (Thank you)
A diverse group of organizations will have information tables all day.
CONFERENCE PRESENTATIONS:
Emily Henry
The Story of Resiliency: The Journey of Reconciliation
Emily's presentation briefly examines an overview of the structure of communities of Indigenous peoples in Canada and how conflicting values led to multigenerational impacts. Emily will explore how cultural and community disconnection due to Indigenous social history resulted in overrepresentation in the Foster Care System through the lens of an Indigenous perspective.
The primary focus of the presentation is how an unwavering resiliency helped Indigenous people arrive at a point in history where reconciliation is the path forward. Emily's message of hope will explore how Indigenous children being raised in healthy environments will ultimately shatter generational cycles that originated with harmful events in history, which result in a generation of adults that honour their ancestry; thereby positively impacting the next seven generations.
Emily's Bio: Kihci Têpakohp Iskotêw Iskwêw (Emily Jane Henry) is Cree, originally from Ochapowace Nation. Emily has received several awards of excellence for her work in the criminal justice field including being named as the University of Fraser Valley's Distinguished Alumni in 2017. She has worked with Correctional Service Canada for 20 years, where she developed 11 culturally relevant intervention programs specifically designed for Indigenous male offenders. Emily is currently the Chair for the Champion and Chair of Indigenous employees for CSC across Canada and serves on the UFV Alumni Board of Directors, Archway Community Services Board of Directors and is president of the Board of the Directors for Seven Sacred Fires Society. Emily delivers workshops across Canada and in her spare time, writes blogs about traditional culture.
Sarah Kothlow
Sarah, a former youth from care, has been AgedOut's Fraser Valley Connector for 2 years. Her role is to promote the website through workshops and community engagement. In addition, Sarah has been our Project Coordinator for over a year. She will share how she got involved with AgedOut, and how this project can support youth aged 17 to 29 to thrive after their transition out of care. Sarah is open to answering questions after the presentation.
AgedOut.com is a one-stop warehouse of information and life skills that supports youth in BC who have, or are about to, transition out of government care. The website is one of the most up-to-date places for young people to find information and opportunities to learn life skills through fun quests. Knowledge is a great source of empowerment for youth and young people.
Natasha Files
An Introduction to Emotion Focused Therapy
Emotion-focused therapy (EFT) is a therapeutic approach based on the premise that emotions are key to identity. According to EFT, emotions are also a guide for individual choice and decision making. This type of therapy assumes that lacking emotional awareness or avoiding unpleasant emotions can cause harm.
Natasha's Bio: Natasha holds a Master of Social Work (Clinical Specialization) from the University of Calgary, is a Registered Social Worker with the BC College of Social Workers, and is a member of the BC Association of Social Workers. Her passion is in family work, specifically parent coaching, with the goal of supporting parents to better understand and support their children. She is a Board Member for the International Institute of Emotion-Focused Family Therapy, and Co-Founder and Co-Director of Mental Health Foundations. Natasha has specialized training in Emotion Focused Therapy (EFT Level 1 and 2), and Emotion Focused Family Therapy (EFFT Clinical Supervisor and Trainer), she is excited about facilitating a therapeutic experience that is both tangible and sustainable.
For more information, please visit: www.natashafiles.com/
PLEASE NOTE:
This is an ADULT ONLY event.
When
March 12th, 2020 8:00 AM through 4:30 PM
Location
Fraserview Hall




8240 Fraser St




Vancouver

,

BC

V5X 3X6




Canada
Detailed Information
| | |
| --- | --- |
| Audience: | Adoptive Parents, GLBTQ Parents, Single Parents, Foster Families, Professionals |
| | |
| --- | --- |
| Location: | Vancouver Coastal Region |
| | |
| --- | --- |
| Format | Workshop (face to face) |
| | |
| --- | --- |
| Topic/Area of Interest | Parenting, Cross-cultural, Youth |
ENews Participation
| | |
| --- | --- |
| Send Enews to participants? | |